Our newest family member
We haven't had pets since Nicholas was a wee one, just starting to crawl. A couple weeks ago, the girls started telling me they wanted a kitten. And truth be told, I was wanting to get one too. I've always had a soft spot for kitties. So I told them to ask Daddy. There aren't many things they ask Daddy for that they don't get!
So, ask they did. And with Easter coming up, Daddy decided that just maybe we could get one from the Easter Bunny. The week before Easter, he started searching around for a Siamese kitten. In case you've never searched for a Siamese kitten, let me just tell you-- they are not easy to find. But of course, Daddy found a couple about an hour away from us at a rescue place. Over the course of the week, he emailed back and forth with the owners. They wanted a lot of info from us to make sure we would be good owners for a tiny fragile kitten. Our four year old concerned them some but Daddy convinced them that he was a gentle boy (well, most of the time!). And finally after some background checks (references, vet records), he got the ok on Easter Eve to go pick up our 7 week old kitten.
We told the girls he was going out with a friend (wanted to keep the kitty a surprise) and I took the kids bowling. When we got home that night, the kitten was hidden in Daddy's car in his carrier and after finally getting three excited-for-Easter-morning kids in bed, I got to take a peek at our baby. OH MY~~ What a cutie he is!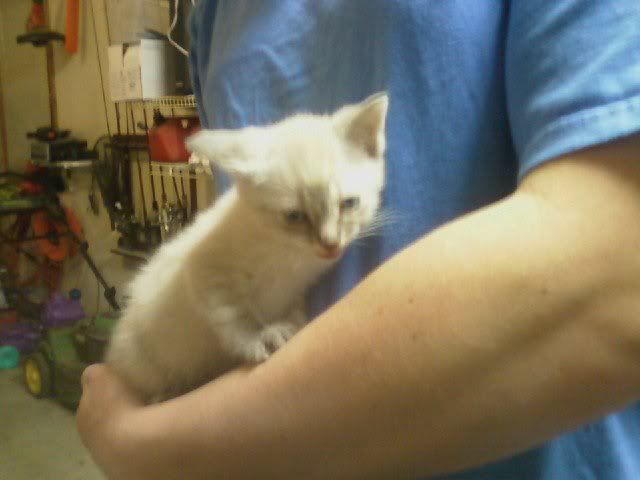 That night, Daddy slept downstairs with the kitty. I could hear him meowing a little but nothing too loud that the kids would hear! The next morning, one of the clues for finding the kids' Easter baskets let them to the room where the kitty was. When they saw what Daddy was holding, they actually forgot about their baskets for a minute or two! The rest of the morning went by in a blur while the kitten ran around trying to figure out his new house AND the three little bodies that were running around in it. But before long, he was right at home and doing just what he does best...