Fitting In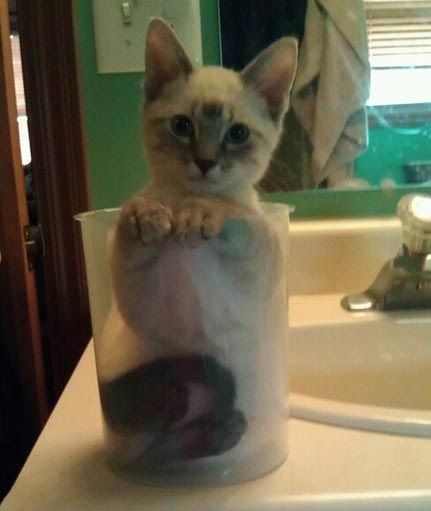 Our new kitty is fitting in to the family (and the big cup above!) really well! We've had him about seven weeks now and the newness still has not worn off. The kids love him to pieces and still fight over who gets to hold him. Let's hope that lasts when he's grown! He is definitely one of the friendliest cats I've ever seen. Even lets Nicholas, my almost five year old, carry him around like a sack of potatoes! LOL It's so cute to see them lying on the couch watching TV together. And I have to admit, I enjoy snuggling with him on the couch too... he's quite the snuggler.
Don't get me wrong... he's definitely got an orny side (I'm talking about the kitty, not Nicholas. Although, Nicholas is a bit orny too!). He loves to pounce out of hiding places right on to your foot or your leg. Then he jumps off and runs for cover. It can be a little annoying at times but I know he's just a kitten (still only about 3 1/2 months old)... so hopefully he'll outgrow it!
As for his name?? It's Jake! If you remember way back when I was pregnant with Nicholas, Daddy had claimed naming rights. His pick was Jake. But Jenna, my oldest kiddo, was not a fan of the name and ended up talking him into Nicholas. We promised him back then, if we ever got a pet, it's name could be Jake. So, essentially when we got the kitty, we gave Daddy back his naming rights.
:)